The Maurice Martin Trophy is presented to the winner of the club championship regatta each year at the Awards Banquet.
The Corinthian Sailing Club pays tribute each year to one of the local wooden boat builders - Maurice Martin. In 1960, Commodore Bednar donated a trophy for the CSC champion commemorating Martin who had died the prior year. (See deed of gift below.) He was a charter member of CSC and had built many of the Snipes and Lightnings on the lake. The 1951 photo shows Martin and his son in their Lightning.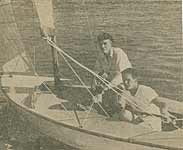 The club championship was originally conducted as the Maurice Martin Memorial Handicap Series. In 1966, the format was changed to a regatta at the end of the racing season to help stimulate greater club interest. It was a weekend of all-out club racing to determine the CSC champion. Three races were scheduled on Saturday and two on Sunday. Fleet champions (one from each fleet) competed against one another in various fleet boats, changing boats for each new race. Non-fleet contenders were determined by handicap races run along with the normal fleet races. The championship then changed to a single boat format. The boat type was rotated year to year. In the mid-1990s, we started using a Portsmouth handicap allowing each club member to sail their own boats.
Our thanks to Richard Wade for reconstructing this information. If anyone has any corrections or additional information to add, please send to webmaster.
YEAR

CLASS SAILED/REPRESENTING

CHAMPION

2019

Laser/Laser

Griffin Orr

2018

Snipes/Flying Scot

Griffin Orr

2017

Corinthian/Flying Scot

Mike Rist

2016

Flying Scot/Flying Scot

Kelly Gough

2015

Snipe/Snipe

Gene Saltero

2014

Vanguard 15/Vanguard 15

Gavin Rudolph

2013

Corinthian/Corinthian

Alvin Skelton

2012

Handicap/Flying Scot

Kelly Gough

2011

Handicap/Flying Scot

Richard Wade

2010

Handicap/Flying Scot

Richard Wade

2009

Handicap/Flying Scot

Jeff Perna

2008

Handicap/Flying Scot

Scott Mauney

Handicap/Flying Scot

Kelly Gough

2006

Fleet Qual/Laser

Mark Babb

2005

Handicap/Butterfly/Flying Scot

Richard Wade

2004

Handicap/Corinthian/Flying Scot

Richard Wade

2003
Handicap/Laser/Snipe
Gene Soltero
2002
Handicap
Scott Mauney
2001

Handicap

Marke Smith

2000
Handicap
Richard Wade
1999
Handicap
Richard Wade
1998
Handicap
Scott Mauney
1997
Handicap
Chris Dukeminier
1996
Handicap
Kelly Gough
1995
Richard Wade
1994
Chris Dukeminier
1993
Jeff Perna
1992
Flying Scot
Richard Wade
1991
Corinthian
Kelly Gough
1990
Flying Scot
Bob Gough
1989
Corinthian
Gordon Prejean
1988
M20
Richard Wade
1987
Flying Scot
Richard Wade
1986
Rebel
Richard Wade
1985
Richard Wade
1984
Flying Scot
Richard Wade
1983
M20
Chris Dukeminier
1982
Rebel
Richard Wade
1981
M20
Richard Wade
1980
Corinthian
Gordon Prejean
1979
Jesse Uyeda
1978
Brad Davis
1977
Nat Wells
1976
Bryan Willson
1975
Kelly Gough
1974
Kelly Gough
1973
Kelly Gough
1972
Nat Wells
1971
Nat Wells
1970
Fred Tears
1969
David Fagin
1968
Manning Grinnan
1967
David Fagin
1966
Jim DeBoisblanc
1965
Craig Coltharp
1964
David Fagin
1963
Jim DeBoisblanc
1962
John Seldon
1961
Austin Moore
1960
Milton Price
1959
John J. Arps
The Martin Trophy
The Martin Trophy is presented to the Corinthian Sailing Club of Dallas in honor of J. Maurice Martin, the boat builder and charter member of the club.
This trophy is to be presented annually to the champion of the club. Each recipient is to retain the trophy for one year and is expected to have his name and the year of the presentation engrave on the name plate. Each recipient shall have the honor of presenting the trophy to his successor.
The first recipient who is to hold the trophy through 1960 and have his name engrave on the name plat is Jan Arps. The donor of the trophy request that he serve as chairman of a committee to recommend a method by which the club championship shall be determined in the future years. Other members who are requested to serve on this committee are Captain Harold Boss, Captain Largent Parks, Captain Dale Selzer, and Captain Kieth Young. The committee shall be free to enlarge its membership to include other boat representation as it deems necessary.
This trophy is presented to the club with the hope that a suitable small trophy will be presented by the club each year to remain in the permanent possession of each recipient.
The only other restriction the donor wishes to impose is that in the event that a club champion cannot be determined by racing, a champion be named by a suitable committee appointed for that purpose.
W. C. Bandar, Commodore
March 15, 1960