Carol Gough Memorial Award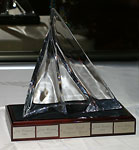 Purpose:
To recognize the accomplishments and life of Carol Gough, to be awarded to the person who best promotes women's racing at the Corinthian Sailing Club, and who embodies the Corinthian spirit.
This award and Carol are a celebration of women in the sport of sailboat racing. They reflect and show appreciation for the the special nuances of female competitors.
The award is presented to the CSC member who is open to teaching, supporting women racers according to their needs and learning style. The recipients listen before speaking, they are encouraging, approachable and give you a smile. They have honor, integrity and do the right thing, even if no one is around. They embody, and teach, grace under pressure - competing and winning, but not at the expense of others. They have actively promoted and supported all potential CSC female competitors in the Adams Cup, the US Women's Sailing Championship; regardless of their chance to win the title.
Eligibility: Any member in good standing at CSC
Selection Process: Each fleet is allowed to nominate one person for the award. The nominee does not need to be from that fleet (it can be at large). The Board can also nominate someone. The Board votes on the nominees. In the event of a tie, the Commodore decides. The award is presented at the CSC Annual Awards Banquet.
Recipients
| | |
| --- | --- |
| 2019 | Bowman O'Connor |
| 2018 | Bowman O'Connor |
| 2017 | Rachael Mittman |
| 2016 | Audrey Duffell |
| 2015 | Alanna Stong |
| 2014 | Bowman O'Connor |
| 2013 | Kelly Gough |
| 2012 | Ralph "Red Dog" Jones |
| 2011 | Alanna Strong |
| 2010 | Masie Coman |
| 2009 | Greta Mittman |
| 2008 | Debbie Adams |
| 2007 | Gina Wilson |
| 2006 | Bowman O'Connor |
| 2005 | Jennifer Judkins |
| 2004 | Renee Comen |
| 2003 | Tracy Aber |
| 2002 | Natalie Mauney |
| 2001 | Frank Richards |
| 2000 | Greta Black |
| 1999 | Kai Kunnapas |